Contra Costa County Breath & Blood Test Attorney
California Blood Alcohol Content Laws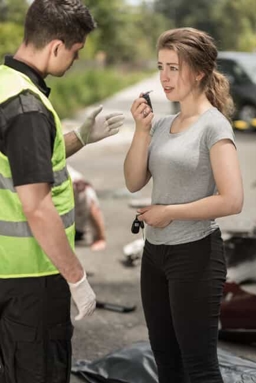 If an arresting officer pulls you over for a suspected vehicle code violation, and upon further investigation suspects you of driving under the influence, they may ask you to submit to field sobriety tests (including balance & coordination tests, a roadside breathalyzer, etc.) all of which are voluntary.
However, if the officer believes they have the facts necessary to arrest you, you must take either a Breathalyzer or blood test to determine your BAC (blood alcohol content).
We often recommend our clients submit themselves to these mandatory tests because if you refuse, your license may be suspended for longer.
Find out what you should do about your DUI arrest by calling (925) 259-3270 to speak with our experienced Walnut Creek DUI attorney. We provide a free one-hour consultation to our potential new clients.
Breathalyzer vs Blood Test Accuracy
Each test reads your blood alcohol content (BAC) a little differently. The breath test (also known as a Breathalyzer) measures the alcohol in your breath. It's not the most accurate reading, as your blood content may actually be lower than what you are blowing. If you've had a drink in less than an hour, we recommend you request a blood test.
Several factors can affect a breath test's accuracy, including:
Your weight and height
Your metabolism
Stress
Diabetes
Any medications you're on that affect your breath
Certain foods you've eaten that might register as BAC
A diagnosis of GERD (Gastro-Esophageal Reflux Disease)
A blood test is more accurate than a breathalyzer because it measures your actual BAC. You can request the Breathalyzer if you are sure you will register a low BAC, but if you're unsure, request a blood test. Furthermore, the blood test must be administered at the station. Waiting to the station before you test your BAC may give your body time to eliminate some alcohol, giving a lower reading.
The Blalock Law Firm, PC BAC Legal Counsel
While reviewing your case, our Bay Area DUI attorney Anthony Blalock examines the test you took and how it was administered. Field sobriety and breathalyzer test results are often dismissed if errors occurred while the officer administered them.
Find out more by calling a DUI breath and blood test lawyer in Contra Costa County Anthony Blalock at (925) 259-3270.